Flights
To fly to France it exist a lot of companies than now I will list:
| COMPANY | LOGO | SERVICE AND VALORATION |
| --- | --- | --- |
| Ryanair | | It is one which has the ticket more competitive in any date while the accomodation on the jet is not the best. His main connection is Beauvais, airport to 60 km to Paris, therefore you should catch a additional bus. |
| easyJet | | As Ryanair has tickets very competitives even though more expensive but in my opinion has a better service. |
| Iberia | | Spanish company with tickets more expensive than the others but if you take in time is not that bad, if not is about 33% superior of his rivals and comfort is better. |
| Vueling | | It has a lot of flights and with medium prices. |
| Norwegian | | A new company with headquarters on Nowrwy who connect nordic countries with other countries of Europe. |
| Air France | | The more important French company, same category as Iberia regarding prices and confort. |
France due to his high number of quality roads and the big number of places to visit in his big territory compare to others countries of Europe is a good place to rent a car. In terms of monuments and extension is comparable to Spain, but in my opinion has his beauty concentred in some towns, not as Spain which is a place with a descentralization in terms of monumental towns, nature places and enjoy sites. Public transport is expensive in Paris but in the rest of towns use to be cheaper and if you use some kind of discounts if you are planinng to do life there it is the best option.
Underground - Towns
Actually France has 6 underground lines. This make it the second country with more towns with underground lines in Europe.
Underground in Paris started at 1900 and since then it has done nothing but than increased. It is the transport more used in the capital and to go to the center town is the best option. The price per traject smaller than London. It cost 1.8 euros per 2.4 pounds of London and you have the possibility to has a 10 ticket for 14.1 euros. This tickets could be transfered to other person, different of London ticket who are assigned to the personal card (Oyster card). It could be used to move in bus or tram but you cannot change trains with same ticket. Toulouse ticket has a usage of 1 hour since you use the first kind of transport and you can change from bus to underground for this hour.

Underground lines and his map are descript well in this page:
Taxi
Taxi in France is a kind of transport very used as the others and in Paris is very important due to the number of passengers and tourists.
Costs depend of factors such as distance and the time. Price for go from the airport Charles de Gaulle to the town center is about 50 euros and 35 euros from Orly airport.
Taxi companies in Paris and phone number.
Taxi G7: +33 (0) 147 394 739
Aero Taxi: +33 (0) 147 390 147
Alpha Taxi: +33 (1) 145 858 585
Taxi Bleus : +33 (0) 891 701 010
Travel in France by train
Train in France is nationalized as the energy and other things and the company is the SNCF as in Spain is the RENFE. There are three kind of trains in terms of service and speed.
Intercite: Town connections
TER: Connection between big towns (regions, like Talgo in Spain.
TGV: High speed train (like AVE in Spain).
OUIGO: High speed low cost.
Travel in France by bus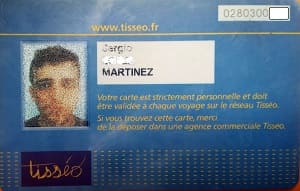 Public transport in France is very useful and very cheap. I recommend a lot to use, because the bus arrive on good time. All towns have kind of bus system. In my case i was in Toulouse and I charge my card for 10 times for not more than 10 euros. It was for the bus and the metro, like in big towns where you can use indifferent and you have 1 hour maximum to use it since you enter at first.