Guadalajara nowadays
Turistic level monuments more asked in Guadalajara are Infantado Palace and Santa María co-cathedral.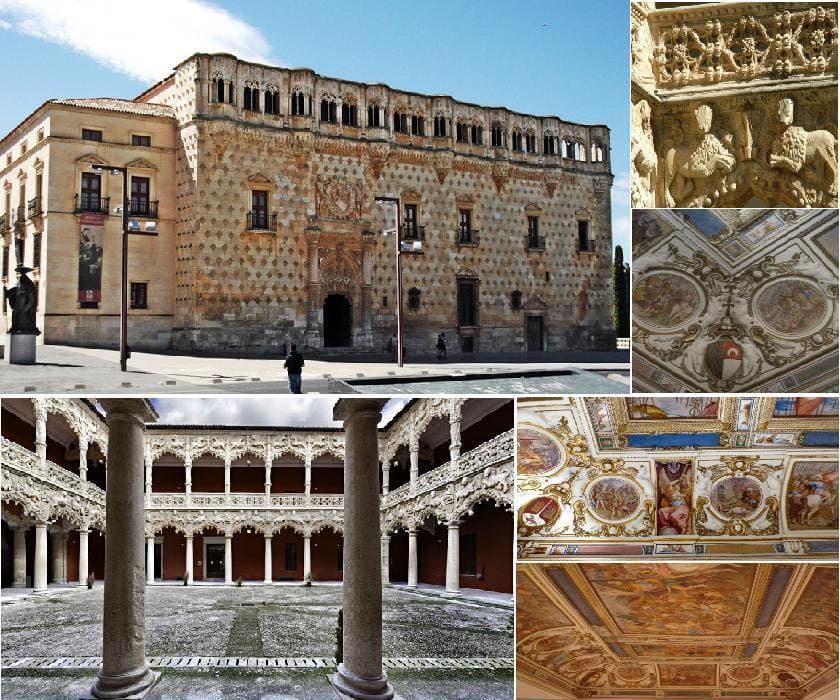 There are a lot as a big number of churchs in the center of the town with lot of history. Also famous parks that has been presents last times of the Guadalajara history where you can enjoy walking like Concordia and San Roque parks.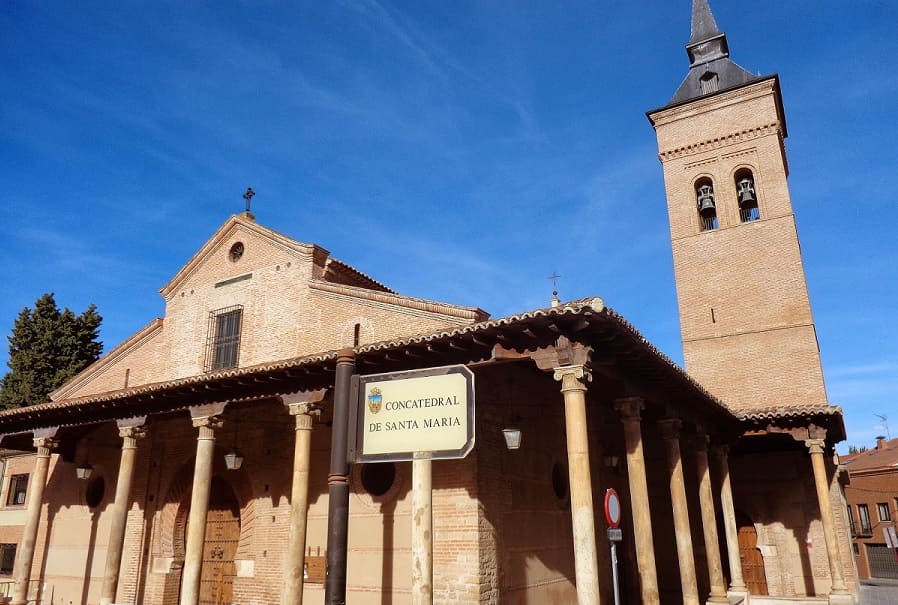 There are also many palaces, although most are not open to the public and are part of institutional buildings, banks or private property.

Besides today it has plenty of groomed areas where they contrast the old areas to new areas such as Alamín ravine, the quarterdeck area and walk across Henares river. These areas can be enjoyed on foot but also by bike through the bike path established in recent years.

Other places of interest are Cotilla Palace, Antonio Mendoza palace (IES Caracense today) or Sevillano Duquesa Pantheon.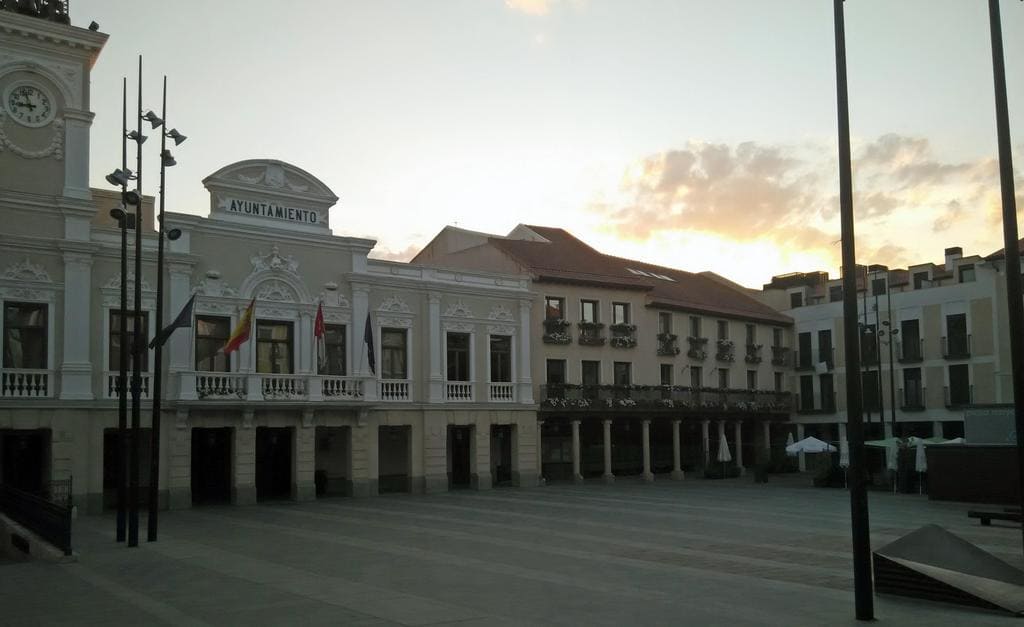 Guadalajara en nuestros días
Nowadays Guadalajara is becoming more nationally recognized. They are trying to recover abandoned or forgotten places as the Alcazar. Thanks to the efforts of local authorities has recently restored the ancient crypt of the Dukes of Infantado, and performed a program of tourism more attractive to the public. Even a new part of the Arab bridge at the end of the second bridge was discovered when they were building a road to clear the traffic jam between francisco Aritio and Fontanar road was discovered. First round and the bridge was completed when Mayor Jesus Alique was ruling, a stage characterized by the rise of brick, where the city of Guadalajara was commanded by construction more than by citizens. The next mayor froze the second roundabout that had served to decrease even more the traffic jam there and it is yet for build. I hope it will be soon.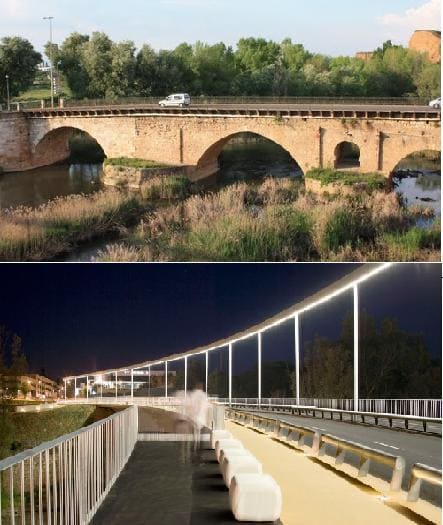 Recently it has been rebuild Francisco Aritio street, one of the fundamental pillars of Guadalajara where it is the train station. Although for my mind have created numerous speed bumps and roundabouts narrow not too streamline the traffic and the absence of trees it does not fair.

Real estate boom of recent years has meant that the city almost double its length reaching almost Taracena and annexing neighborhoods that until recently were some distance from the town center as Valdenoches or Iriepal. The crisis has not gone unnoticed in Guadalajara where many from Guadalajara have had to emigrate to other countries due to little interest in the various local and national organizations in promoting employment in the region, It is currently more than 20% from Guadalajara in unemployment. The large estate had a field day in these years are possessors with financial institutions of a large part of the new buildings of the city, having completely depopulated neighborhoods.
Public buildings, sports, leisure and culture
They have built numerous sports facilities, from an indoor pool, a football stadium, and extended like San Jose to happen to have two indoor pools, an aquatic center (public and private concession regime) sports. In addition a multipurpose palace where many national and international events are held.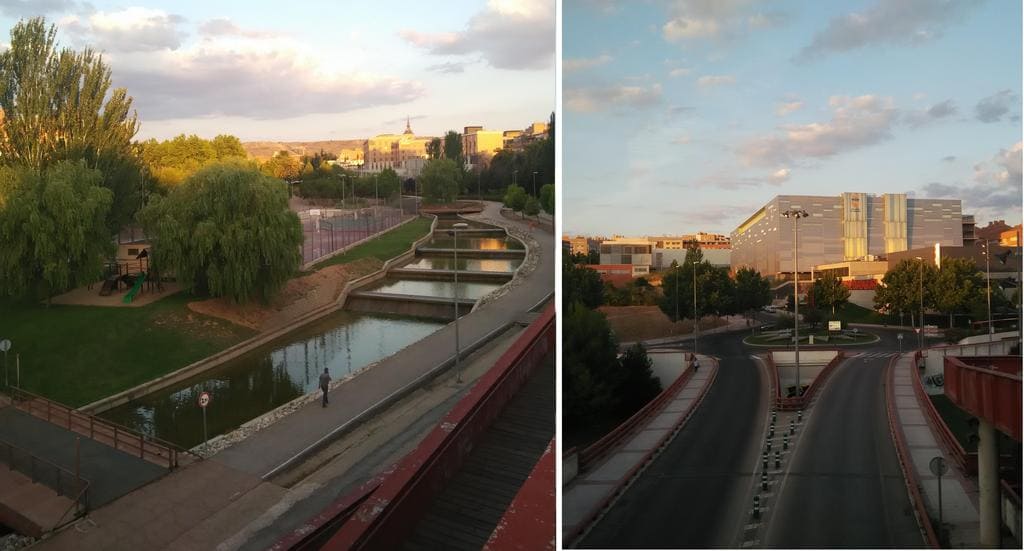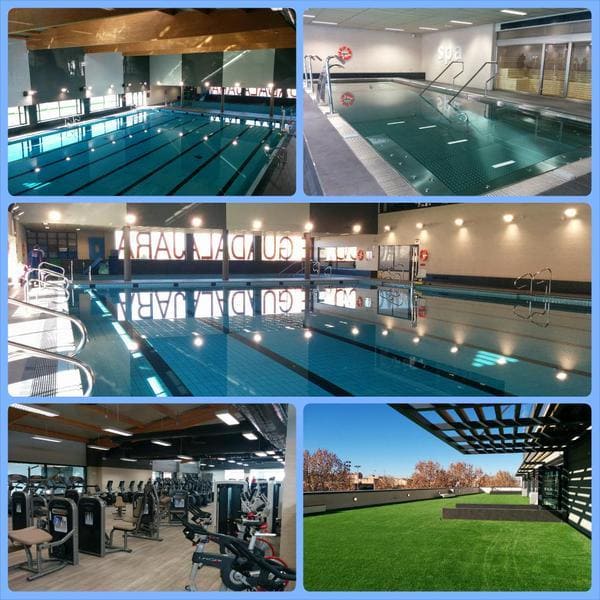 Guadalajara has been noteworthy only in futsal whose club spent several years in the first division to have a second club football and handball team first. And is that they have improved their facilities in recent years, more for the money contributed by the board of communities by the city and which I believe is above what a city of similar population deserves, but everything is for Guadalajara and its inhabitants;)..
It is also a city with a lot of traffic, although an effort has been made to manage this and increase parking spaces is not enough and there are still problems. There has been an attempt to establish a bike rental system like other Spanish cities, but due to the physiognomy of the city and the somewhat traditional mentality of the people of Guadalajara and the management of it has failed, with an extensive bike lane that borders the city for leisure use.                     

So Guadalajara is an example of an innovative city with a great quality of life, although due to the current Spanish situation and little interest by the regional authorities in these years there have been projects that have failed, as the expansion of the industrial estate or the inclusion of a university campus in the vicinity of the train station that could give life to a city that does not stop aging, having lost indigenous population that has moved to towns closer to Madrid and other who have emigrated to other parts of Spain or Europe to look for a job. This has been compensated by a certain influx of inhabitants of Madrid in the years of high housing costs and a greater number of immigrants who are still not a significant percentage today. P>