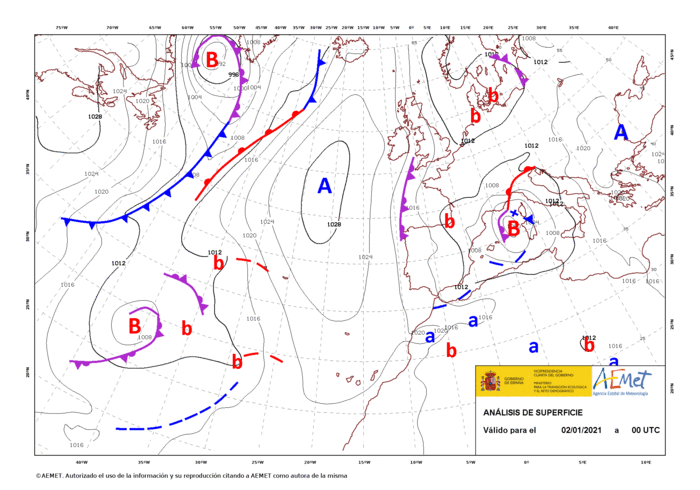 After a year as chaotic as 2020, nobody could imagine how 2021 was going to start. With a storm not seen for almost a century.
I hadn't seen snow for almost 10 years and the most I had seen snow in Guadalajara was one night and part of the day so that in 2 days all the snow would disappear. With that you could enjoy 1 day of snow. The year I was in the Canary Islands in 2018 there was a great snowfall but it was more in Castilla y León where the AP6 motorway had to be cut for the first time. That in that area is the closest that has come close to snowing this way. Everything indicated that it was going to happen as can be seen in the following image from the meteosat satellite.

In the image you can see how the storm Filomena enters from the southwest, passing very closely through the north of the Canary Islands and is pushed by two anticyclones from the west and the south, entering Spain from the southwest. Upon entering, it meets two other anticyclones that stop it dead. One with its epicenter in Algeria, and another in central Europe, as well as the strongest one in the Atlantic. This conjunction of high pressures with the storm makes it stop and having temperatures below zero for the time of year has caused it to have been disposed of causing a snow storm.

Below I show the temperature map and the snow thickness map.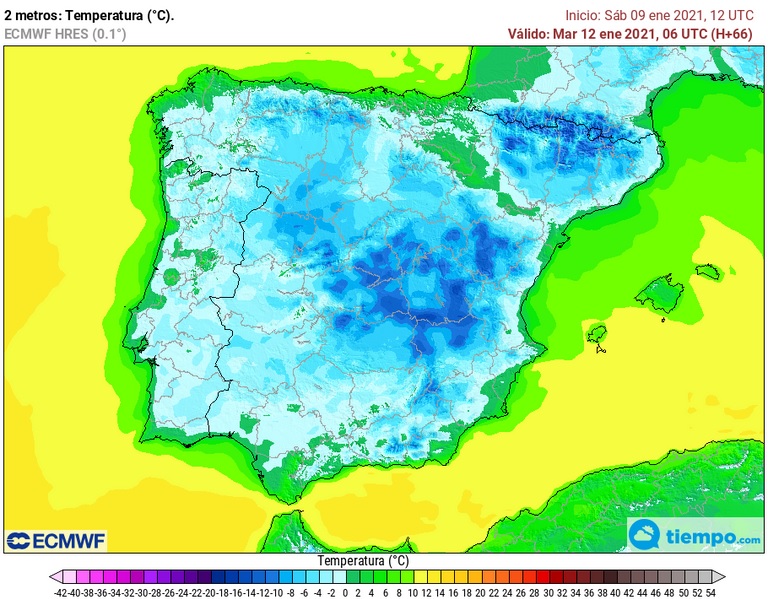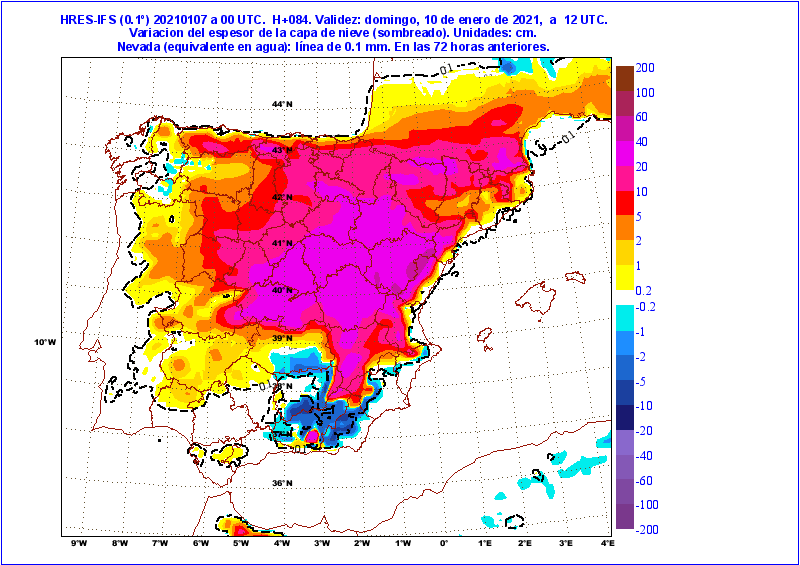 Here the temperature map in more detail.

Al estar arrinconada no se ha desplazado y es ese el motivo principal de semejante fenómeno. Además en plena península por que el epicentro al principio era Albacete y en un día apenas se desplazo 400 km hacia al norte para situarse justamente en Guadalajara. En la siguiente imagen se puede apreciar las zonas más afectadas y como Guadalajara el oeste de Madrid y el norte de Cuenca han sido las zonas más afectadas por la tormenta, ya que en ellas ha estado presente casi los 3 días siendo el segundo día, desde el final del viernes hasta la mañana del Domingo cuando más ha influido.
Una vez presentadas las imágenes de meteorología y los mapas pasare a mostrar como se ha vivido este fenómeno en Guadalajara, mi ciudad. En estas dos imágenes podemos observar como subió la nieve la noche del viernes.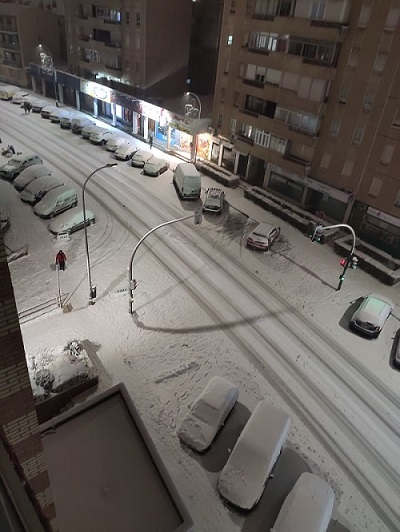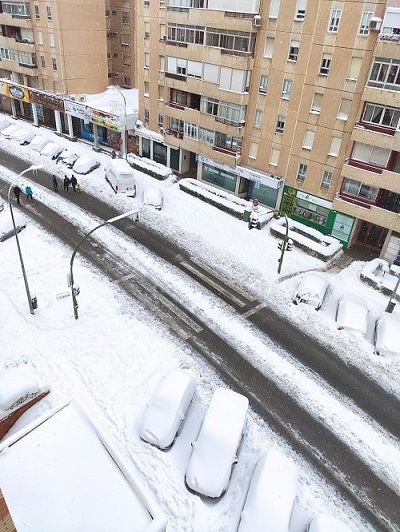 Después de salir se puede ver como media ciudad salio a disfrutar de la nieve ya con los niños con trineos improvisados o ataviados con bastones para la nieve. En Guadalajara no somos tan modernos como Madrid para salir a esquiar pero se podía haber montado una pista de esquí perfectamente. Se puede ver como los servicios de la ciudad estaban disponibles y trabajando ya a primera hora. La gestión de filomena fue bastante buena en Guadalajara, aunque me parece que los costes por parte del ayuntamiento fueron algo altos. Aún así muchos trabajadores no estaban lo suficiente capacitados y la nevada se alargo necesitando la colaboración de los militares.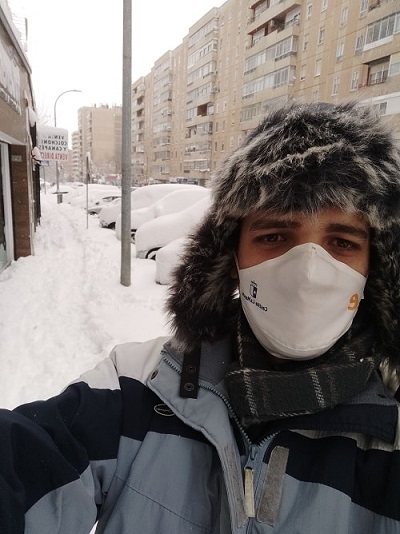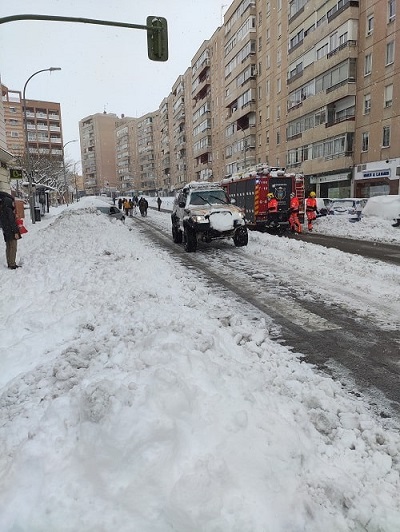 Mi recorrido alrededor de mi casa y como quedo el parque de la amistad, con un cuarto del arbolado dañado y muchos árboles que no pudieron soportar el peso de la nieve y que posteriormente fueron cortados.
Here I show the main monuments and assets of interest after the snowfall on Sunday. Starting with San Gines, going down the race, we will find the fort of San Francisco, Bejanque and the Cathedral of Santa María further down. Finishing with the town hall and the Infantado palace.
More views of the infantado. Army Avenue, Infantado Gardens, Alvarfañez Tower and view of the multipurpose palace and aquatic center. These last recent constructions of the city.
In these photos I show the temporary exhibition of replica paintings of the Prado Museum. This exhibition was located in the Parque de la Concordia in the city of Guadalajara, in the month of January 2021, just at the beginning of the snowfall, and in it you could see the most important pieces.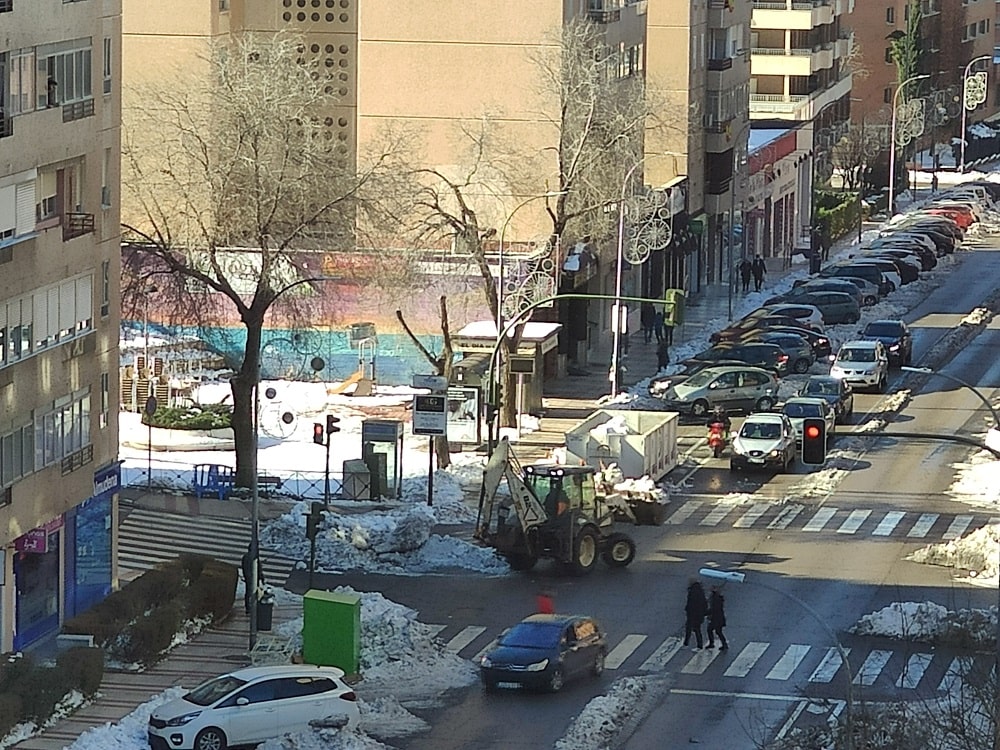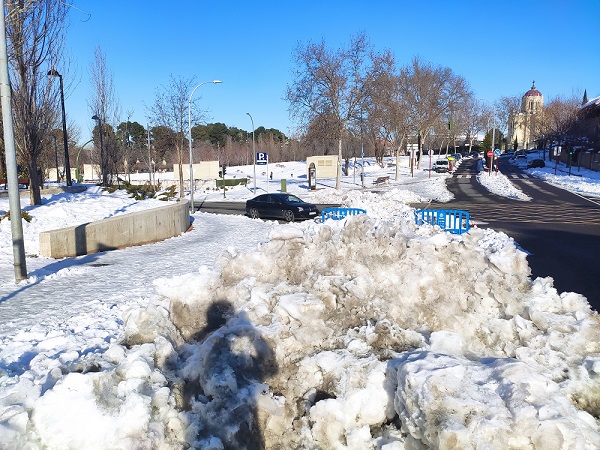 La nevada fue tan pronunciada que incluso pasada una semana además del ejercito tuvieron que venir camiones para llevarse la nieve de las calles.
In this image you can see the layer of snow that still remained and the ice accumulated on the roads of the snowplows that cleared the snow.
Finally a view of the field seen from the A2 in Guadalajara.